not a good look
yelling at the gynecologist
Bottom's Up: The Perimenopausal (Molotov) Cocktail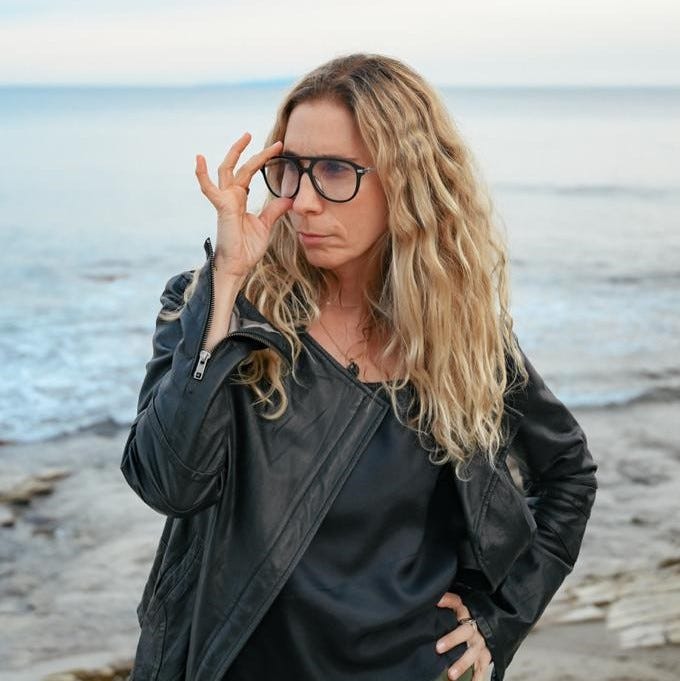 The 'pause is now trending (see "The Menopause Goldrush" in the NYT). But its opening act, perimenopause, is still relegated to the small stage. 
When perimenopause arrived in my life, I didn't have hot flashes. I was getting my period regularly. Up until about 6 months prior, the possibility of pregnancy was still actively in discussion. I didn't associate any of these things with the onset of changes that are perimenopause. I didn't really even know what it was. 
What I did know: it was hard to be me. I was being hard on myself and those closest to me. I was usually some combustible combo of emotions including irritation, resentment and depression. Not cute. Then some days the clouds would part, I'd cycle back to a semblance of my normal self. Phew. But before long I'd pivot to being disappointed, tired and upset again. A roller coaster of doom and despair – not the most popular ride at the amusement park. 
While I'm not exactly a natural optimist (I'm a Jew from New York, my baseline setting tends to hover in the vicinity of "concerned"), I'm actually pretty happy in general. I credit some of that to being cured of cancer for over a decade. Getting a second pass at life can really cheer a person the fuck up. So this far-from-appreciative version of myself felt disorientingly foreign. 
Plus I couldn't remember certain words when I needed them, couldn't focus or concentrate long enough to be properly productive. Sleep became elusive. Basically I was a dim, volatile mess and I didn't recognize - or like - who I'd recently become. 
I thought maybe some of this new me was due to pandemic-related stress, the cumulative toll we were all feeling. I inwardly wondered if the cognitive impairment was some early warning sign of dementia. I couldn't quite name what was going on, but I knew I didn't like it. 
It was during an episode that could alternatively be called "Crying in the Gynecologist's Office" or "Indignant Rage at the Gynecologist's Office," that my doctor, Dr. Shamsah Amersi, sagely suggested I get a new hormonal blood draw. 
In reviewing that bloodwork with me, Dr. Amersi gently and accurately said, "You must be really uncomfortable." I cried (again), not an uncommon response at the time. 
She explained what was happening. 
It was perimenopause, not a character flaw. It was hormonally-triggered PMDD, not a lack of grit. And no, I wasn't suddenly and permanently stupid. It was brain fog. All of this was tracking with my age and test results, but it wasn't my new reality. 
Because of my history of breast cancer I couldn't go on traditional hormone replacement therapy, but other options existed. Between Dr. Amersi, Dr. Ashley Covington - a psychopharmacologist with a holistic viewpoint, and integrative nutritionist Dana James, I've assembled a protocol that has returned me to the land of the living. 
It's taken some trial and error. Ketamine was boring. Valerian did nothing. Taking estrogen in any form gave me cancer anxiety. But eventually, I've landed on the right mix for right now:  
Saffron helps me wake

Magnesium helps me sleep

GABA so I can stay asleep

CoQ-10 lifts the fog

B vitamins in the afternoon make me perky 

Vitamin D and a touch of Wellbutrin to buff out the rough edges

Regular acupuncture to keep all the lady parts purring 

And just when things could start to get dicey mid-cycle, Progesterone is my new best friend
These days if I'm kinda bitchy, I'm out of excuses. 
Ladies, if any of the above symptoms sound familiar and you're over 40, I suggest you get your hormones checked. Not just for yourself and for the people who love you, do it for anyone who has to interact with you. Get informed. Don't be your own guinea-pig and go rogue, build your team of advisors so you have oversight. 
Bear in mind, unfortunately only 20% of medical schools offer any training in menopause according to Phenology. That's right, only one-fifth of doctors have received any education in this arena. You may have to shop around for the help you deserve. 
Ask questions and get support. You're not irrevocably broken. This isn't the end of joy. It's the start of new wisdom. Demi-elder wisdom. I'm more in touch today with my body's cycles and needs than I ever have been. She and I are buds again, we good. And everyone around me is safer for it. 
If you found this helpful (or amusing), please give it a like or drop a comment below. Your feedback is immeasurably helpful. And if you know someone that might benefit from this info, kindly forward it along. We're all in this together.
"Since You Asked" is a reader-supported publication. To receive new posts and support my work, consider becoming a free or paid subscriber.